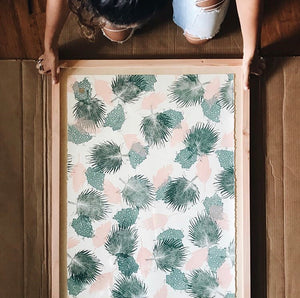 Susanna L Cromwell
Loulu Aloha Print - 22.5x30 (framed)
SOLD
26.25" x 34" x 1" - Finish/Exterior Frame Size
22.5" x 30" - Paper Size
Original block print on 100% cotton archival paper. Framed by Reed Cromwell using reclaimed wood.
Inspired by the endemic Hawaiian Loulu Palm Tree and vintage aloha wear.
Process includes hand carving stamps, mixing colors, rolling paint onto stamp, pressing and peeling the stamp, and repeating....many, many, times.
Only 3 Large Loulu Aloha Prints in all- each one completely unique in their layout.